Earn 15 points per $ spend
Italy
Things to do in Vatican Museums
The treasures of the Vatican museums may be open to the general public, but there are areas that fewer people see. The Archivum Secretum Apostolicum Vaticanum is an archive of important documents covering twelve centuries of church history . . . and perhaps a few secrets.
Here you'll find Pope Leo X's 1521 decree excommunicating Martin Luther, and a petition from English clergymen in 1530 asking Pope Clement VII to annul King Henry VIII's marriage to Catherine of Aragon. There's also the official doctrine of the Immaculate Conception as defined by the Church in 1854, supporting the notion that Mary was conceived without original sin.
Though many people are fond of conspiracy theories (ancient evidence of extra-terrestrial life?), the archive has been open to scholars since 1881. Nevertheless, access is not easy. Journalists, students, and amateur historians should not apply, and even professional scholars must renew permissions every six months.
Browsing is not allowed and nor is photography. Researchers must ask for a specific document from supplied catalogues. But what secrets are not contained in the catalogues . . .?
Opening times
St Peter's – daily 7.00am-7.00pm April to September, 7.00am-6.00pm October to March
St Peter's Dome – daily 8.00am-6.00pm April to September, 8.00am-5.00pm October to March
The Treasury – daily 9.00am-6.15pm April to September, 9.00am-5.15pm October to March
Grottoes – daily 7.00am-6.00pm April to September, 7.00am-5.00pm October to March
Museums ­– Monday-Saturday 9.00am-6.00pm, last entrance: 4.00pm. Free entrance on the last Sunday of every month, admission 9.00am-12.30pm. Museums close at 2pm
Museum entrance closes 75 minutes before closing time
About the Vatican
The origins of the Vatican might be traced to 324AD when the Roman emperor Constantine started construction of a church with the tomb of St. Peter at its center. It would be a focus of the early Catholic Church, although the first popes lived at the Lateran Palace during the Middle Ages and actually moved to Avignon in France in the fourteenth century.
It wasn't until the end of that century that the popes returned to Rome and again considered a monumental church. This was a time of great building projects, including the Sistine Chapel, the Belvedere Courtyard and a new St Peter's. Nevertheless, the growing collection of ecclesiastical buildings was not known yet as the Vatican.
In fact, it wasn't until 1929 that the Vatican was recognized as a sovereign state, later becoming recognized and protected under the Hague Convention as a cultural heritage site. In 1984, UNESCO recognized the Vatican as a World Heritage Site. Today, it has a population of around 800, its own TV channel, its own post office and telephone service. It is protected by the lavishly uniformed Swiss Guards and even has permission to have a navy, though no ships exist at the moment.
For the visitor, the attractions may be religious (audiences with the Pope draw thousands) or cultural. The museums and galleries are storehouses of great and famous art collections, the gardens are beautiful oases of calm, the architecture is stunning and – of course – there's the colossal majesty of St Peter's church to explore.
Getting there
By Metro

Line A stations: Ottaviano - S.Pietro-Musei Vaticani, Cipro

By bus

49: stop in front of the museum entrance
32, 81, 982: Piazza del Risorgimento
492, 990: Via Leone IV / Via degli Scipioni

By tram

19: Piazza del Risorgimento

By taxi

Taxi stand: Viale Vaticano in front of the museum entrance
Our recommendations in Vatican Museums
How to get there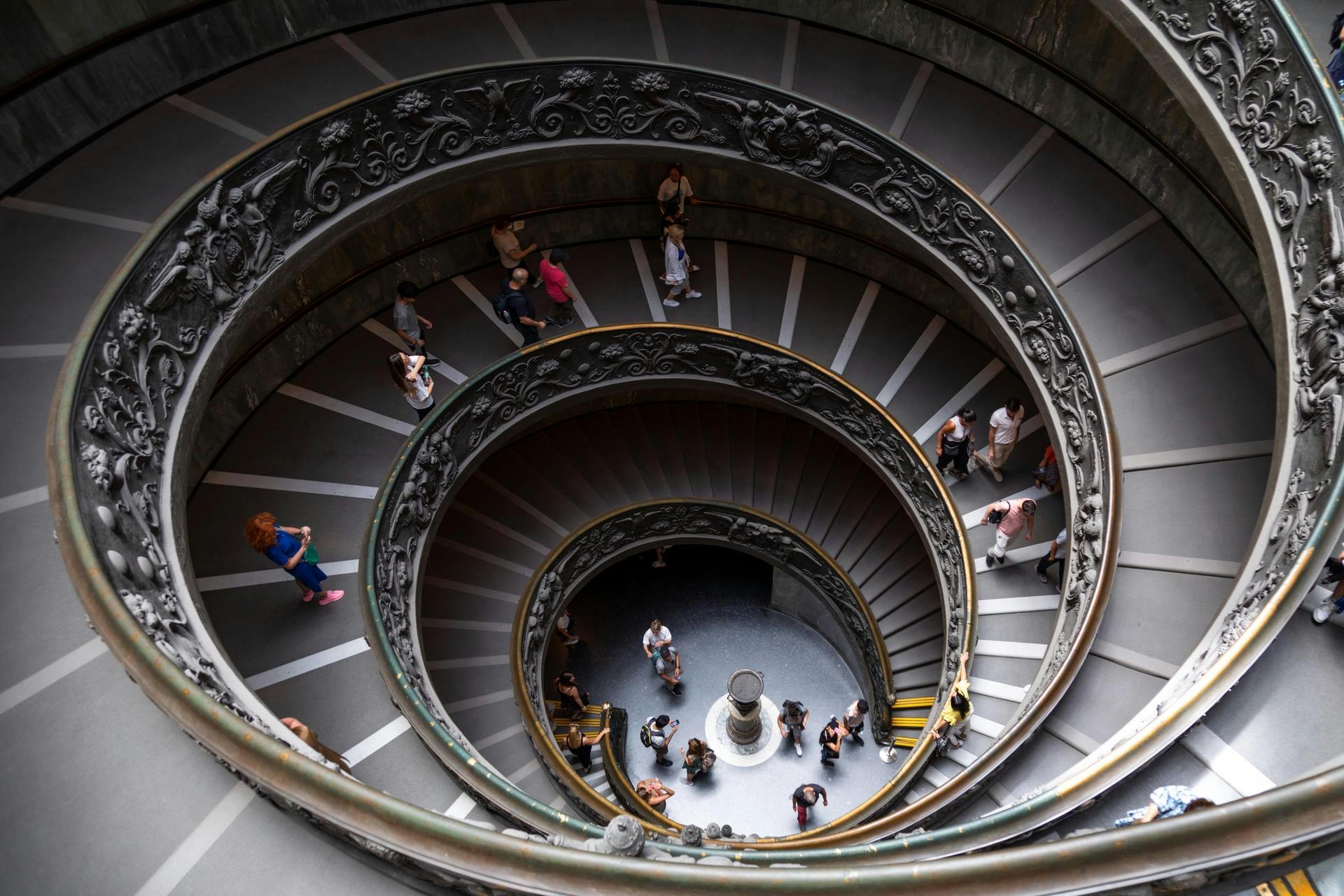 Reviews Vatican Museums
"Skipped the queues which was good, but the Vatican was very busy so be prepared to be shoulder to shoulder. This is not a visit for small children in my opinion."
"Vincenzo the guide was excellent. He got us seats right at the front so had a good view of the pope. Not really sure why this cost £22.00 each considering tickets are free to watch. Also described as a guided tour, we was only guided through security and to a seat so not sure what part was a guided tour. It doesn't say in booking what the excursion actually includes so very misleading"
"Ottima esperienza, guida molto preparata, tutto ben organizzato, assolutamente consigliato."